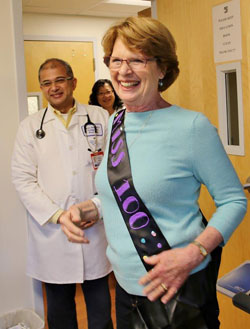 Over the past six years, Sheila Zoerner has seen her three children get married, celebrated the arrival of two grandchildren, and traveled everywhere from Lake Tahoe to Italy with her husband of 21 years, Charlie.
Sheila has treasured every moment — all the more because none were expected to happen.
In April 2010, Shelia was diagnosed with HER2-positive breast cancer, an aggressive type with a poor long-term prognosis. After multiple appointments with attentive Kaiser Permanente professionals, a bone biopsy confirmed that the cancer had also spread to her spine.
That's when her oncologist, Tanvir Sattar, MD, recommended that Sheila enroll in the clinical trial for an experimental cancer therapy. The Kaiser Permanente Oncology Clinical Trials program currently has about 70 leading-edge trials.
"The disclosures were frightening," said Sheila, but she decided that, "if there was a new drug out there that could improve my chances, I was willing to take that chance."
Her treatment began with infusions every 21 days of a first-line chemotherapy, plus two targeted drugs, including the experimental drug Pertuzumab; combined, these two drugs target the HER receptor family.
Eight months and seven cycles of chemotherapy later, her scans showed no disease. She continues to receive the two targeted drugs, with virtually no side effects, and has been cancer-free for five years.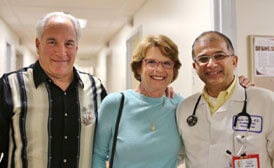 Based on results of the research clinical trial that Dr. Sattar enrolled Sheila in, the Food and Drug Administration approved the use of Pertuzimab in combination with chemotherapy as part of breast cancer treatment plans.
On February 18, Sheila arrived at the Kaiser Permanente Walnut Creek Medical Center with Charlie for her 100th treatment. After meeting with Dr. Sattar, Sheila and her nurse went to the patient education room for a quick meeting with Cynthia Walker, the clinical oncology research nurse on Sheila's case.
That's when the center's entire oncology staff surprised Sheila and Charlie with a celebration honoring the successful cancer care outcome that brought all of them together. The staff presented Sheila with a handmade "Miss 100" sash, signed a memory book for her and decorated her treatment station.
"Sheila is a patient who has savored every day," said Walker, who organized the party and baked all the treats.
"I'm very grateful for Kaiser Permanente and for where I'm at — and what I've been able to learn and accomplish over the past six years," Sheila said. "I'm not afraid anymore."
At Kaiser Permanente, we take pride in our research. It not only optimizes the health and medical care of our members, but it also contributes to the wealth of medical knowledge worldwide. That's why we have investigators and staff that work at medical centers across all of our regions. Learn more about the clinical trials conducted by our researchers below.
Kaiser Permanente Treatment and Research on the Cutting Edge – Clinical Trials