Living the Kaiser Permanente Mission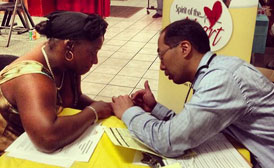 The David Lawrence Community Service Award recognizes Kaiser Permanente employees who live the mission of our organization beyond the walls of their workplaces. In 2016, we honor Kaiser Permanente employees who champion projects within their communities such as directing local camps for foster children, mentoring at-risk high school youth, and collecting shoes for disaster relief organizations.
"The work of the David Lawrence Community Service Award winners not only mirrors our community health priorities, it also embodies the ideals of total health of addressing mind, body, and spirit,"
- Dr. Bechara Choucair, MD, senior vice president, Community Health and Benefit.
Join us in celebrating their dedication to improving health in their communities and living by example:
Christian Schannuth: A longtime volunteer and current director of a local Royal Family Kids camp in Colorado, which mentors foster care children who have experienced abuse, abandonment, and neglect.
Ryan Paterson, MD: Medical director for the Kolkata City Mission, which works to combat poverty and malnutrition while helping to create infrastructure that provides education, housing, clean water, and covered sewers for people living in the slums of Kolkata, India. He also helps provide health care to the underserved in India and Nepal.
Harris Nakamoto: As a youth, many of Harris' peers dropped out of school, resorting to drug use and falling into the clutches of homelessness — a fact that deeply motivated him as an adult to volunteer with at-risk high school youth in Hawaii by mentoring, counseling, and helping to provide motivation.
Alean Cook-Palmer, MD: Works with the Boys & Girls Club of Nanakuli, Hawaii, two schools and their health academies, and medical school students from Home Project, alongside teams of volunteers, parents, institutional, and community partners. She also collaborates with physicians and staff of Waianae Coast Comprehensive Health Center.
Monte Sanchez: Volunteers with Manna Food Bank in Montgomery County, MD on behalf of Kaiser Permanente, and personally volunteers with the Fairfax County's Community Emergency Response Team, with a focus on first aid. He also volunteers with a local animal rescue service and the Fairfax County, VA Police Department.
Alex Haybok: Has volunteered and raised money for his children's school, which includes helping build a playground, install new water fountains, improve school communications processes, and inspire a culture of active living. This includes more children walking to school or riding their bikes, spending more time being active outdoors, and yoga in the classroom.
Aaron Thornton, MD: A passion for volunteering started with a church mission to a Haiti orphanage, with Dr. Thornton taking along just a few medications and seeing as many people as he could in an area of Haiti where no formal medical care was available. He also serves with the Tiba Foundation, teaching nurses and physicians providing solutions to the delivery of medical care to an underserved area in Kenya.
James Jang, MD: Helped start City Impact in San Francisco, a free medical and dental clinic, and has served as medical director since 2014. City Impact operates the renowned Adopt a Building Program, bringing hope through positive personal relationships fostered by the program.
David Griffin, DPM: Leads a number of volunteer efforts, including raising money for cancer research, collecting shoes for disaster relief organizations, and volunteering at local homeless shelters. He started a local program to screen children for football concussions, and at Kaiser Permanente's Sunnyside hospital, he helps identify patients at high risk of falling in the inpatient home and facility settings.
Mary Jane Govaerts: A certified Victim/Offender Education group facilitator, she has worked with ex-offenders through her affiliation with St. Vincent de Paul's Catherine Center in California, a transitional residence for women released from incarceration. When she relocated to Oregon, she helped create a course that focuses on the concepts of restorative justice to women in a correctional facility.
Tony Lee, MD: Cofounder and medical director of Medical Task Force International. He has led a number of medical missions to seven countries in Southeast Asia and Central and South America. In addition to providing care, food, and toys in these countries, Dr. Lee and his team provide health education for the patients and local medical students, resident doctors, and nurses.
Kaiser Permanente Group of Jamaican & American Humanitarians: This team helps provide health care services to rural low-income Jamaican communities. Their work has expanded and improved the quality of care in Jamaica by working with the ministry of health to share best practices. Locally, the group hosts an annual health fair and provides boxed lunches for the homeless. They also award scholarships to students both in America and Jamaica.
Congratulations to this year's award winners, and thank you for bringing your dedication to service to the Kaiser Permanente team. We're looking for similarly dedicated individuals to join in our mission. Click here
To read the full article and many others, explore our Share Site.