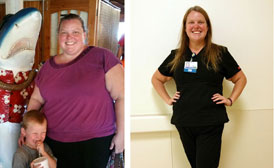 Melissa Kelley, a night shift RN at the Kaiser Permanente TownPark Comprehensive Medical Center in Georgia, struggled with being overweight, even obese, all of her life. She says she dieted off and on since high school and even considered weight-loss surgery in the past in an effort to manage her weight.
It wasn't until Melissa gave birth to her son in 2011, that she started to feel the heavy impact her weight was having on her life.
"I had been struggling for a very long time with low self-esteem, a lack of self-confidence, the inability to enjoy physical activity with my son due to my size and fitness level, and the knowledge that I was teaching my son unhealthy eating habits by eating out at every single meal."
Today, Melissa is incorporating Kaiser Permanente's Healthy Living Lifestyle programs into her life, and even attracting other Kaiser Permanente employees to follow her passion for living. "There are at least three other ACC/CDU (Advanced Care Center/Clinical Decision Unit) nurses who have adopted healthy eating and exercise routines," says Nina Richards, fellow RN at TownPark.
So how did Melissa get to this healthier, happier place conquering victories beyond the number on the scale?
In January 2016, one of the other night shift nurses she worked with mentioned that they were considering trying Weight Watchers. "I had never tried Weight Watchers before and without much thought I signed up," says Melissa. "I sensed from past experience with other weight-loss programs that this would be temporary and that I would only lose maybe 15 to 20 pounds. I was wrong!"
To date, Melissa has lost 98 pounds and developed a love for exercise that she never knew she could.
"I feel empowered by the ability to choose what foods I put into my body. I love that I am now teaching my son healthy eating habits and the importance of physical exercise. This is a new way of life for me and I plan to continue doing this for many years."
Melissa and her colleagues continue to motivate and inspire each other to live healthier lives. They have formed a supportive community that keeps each of them on track. "We are committed to becoming our best selves through nutrition, exercise, and healthy living," she says. "We are THRIVING!"
Work should be a place where you are inspired to be your best self. If you're looking for a work environment that supports healthy living, click here to explore our open positions today!
To read the full article and many others, explore our Share site.