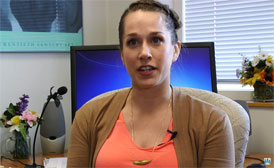 Chelsea Reeverts was entering an exciting time in her life. She had just become engaged and she and her fiancé were looking forward to getting married and starting a family. She was young, healthy and excited about the future. Then came the news that no one is prepared for: Chelsea was diagnosed with multiple sclerosis.
Her physician told her that there were new medications for treating MS. She arranged for Nikki Hahn, PharmD, one of the neurology department's clinical pharmacy specialists, to follow up with Chelsea to explain more about how these medications fit into her treatment plan.
"My expectation was someone was going to call me about medicine and tell me what that medication would do, and that's it, Chelsea said. I spent an hour on the phone with [Nikki]. That phone call was life-changing."
Nikki asked Chelsea about what was going on in her life. Chelsea told her about being engaged and wanting to eventually have children. Nikki walked her through a medication plan that factored in family planning, detailing each treatment milestone and what she could expect.
"She talked about the first month of what we were going to do, the first six months of what we were going to do, and a year out, and a year and a half out and what all of that was going to look like," Chelsea said. "I felt like I had a partner in this."
"With every patient I speak to, I always strive to make a difference and hope I am able to provide value to the patient in some way, whether big or small," said Nikki. "With Chelsea, she and I were able to create a special relationship through our initial and follow-up conversations. Connecting with a patient that way is the most rewarding part of my job."
Kaiser Permanente Care Team Member Helps Young Woman Newly Diagnosed With MS
"Studies show that the more patients interact with their pharmacist, the more effective their treatments," said Joe Douglas, vice president, Outpatient Services, Kaiser Permanente National Pharmacy. "When a pharmacist helps a member understand why they are taking medication, compassionately addresses their concerns, and makes sure they are taking their medication in a safe and effective way, we are providing care that is essential to total health."
Kaiser Permanente pharmacists counsel patients in a variety of care settings, including hospitals, outpatient pharmacies, clinics, infusion centers and call centers. From prompting medication adherence for patients with chronic conditions to making sure that patients discharged from the hospital are transitioned with the right medication plan, pharmacists are often the voice and face of Kaiser Permanente.
For the opportunity to work closely with patients and see the positive impact of your hard work first-hand, explore opportunities to join our Pharmacy team
To read the full article and many others, explore our Share site.