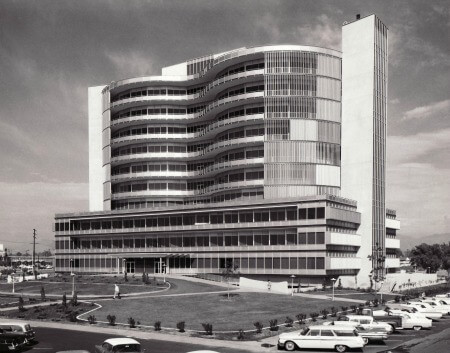 Kaiser Permanente has been an integral part of the San Fernando Valley's history and growth since the 1940s. After World War II, returning servicemen and servicewomen were settling and contributing to the baby boom, and financing provided by the GI Bill and the Federal Housing Administration fueled the surge in demand for new, affordable houses.
To meet this growing need, our founder Henry J. Kaiser partnered with Fritz Burns to launch Kaiser Community Homes in order to develop thousands of low-priced homes for the common man that were in close proximity to industries that employed many workers.
Kaiser Community Homes' largest development was Panorama City. With 3,000 homes built between 1947 and 1952, it was the first large postwar community in the San Fernando Valley. In drafting the blueprint for the community, Kaiser engineers also designated space for a Kaiser Permanente clinic and hospital.
The rest is history. Kaiser Homes' nearly 70-year-old "model community" still stands in Panorama City. Kaiser Permanente's very first medical offices opened in North Hollywood in 1954, and the organization's reach has continued to expand from there. Today, facilities are spread across the entire San Fernando Valley—and if you are interested in viewing some of the latest innovations and developments in the area, we invite you to watch the video below!
Ready to help us provide high quality, affordable health care like we bring to individuals in the San Fernando Valley? View our open positions today.
Welcome to the Panorama City Medical Center Area
You can learn more about Kaiser Permanente Community Homes and their history here.