In March 2016, Kaiser Permanente Educational Theatre (ET) celebrated 30 years of community service in Southern California! That's 30 years of performing arts-based educational programs designed to inspire children, teens, and adults to make informed decisions about their health.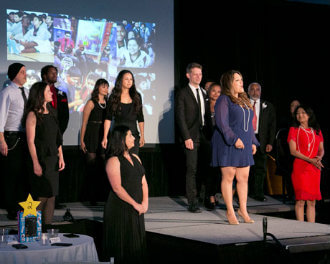 A free Kaiser Permanente Community Benefit program, Educational Theatre serves families and K–12 students in at-risk communities by using live theatre to inspire healthy choices. Over the last 30 years, ET has reached more than 6.7 million people.
On Monday, March 21, ET hosted a special event at the Pasadena Convention Center to celebrate their 30th anniversary. Gerry Farrell, director, Kaiser Permanente Southern California Educational Theatre, opened the event with a short video that compiled some of ET's earliest recorded performances through some of their more current offerings, illustrating the depth and evolution of their work through the decades.
"The work [ET] did in Santa Ana is remarkable," said Patrick Yrarrazaval-Correa, former principal, Valley High School in Santa Ana, California. "Helping students avoid STDs and early pregnancies is the greatest gift," he added. "Our pregnant and parenting classes' population dropped by 20 percent at Valley High, and the ET programs reached over 40,000 students and parents in Santa Ana."
At one point during the event, the actor-educators gathered on stage to share stories that illustrated the positive impact the programs have had, not only on the lives of the audience members, but also on their own lives.
They were then joined on stage by Edward Ellison, MD, executive medical director and chairman of the board, Southern California Permanente Medical Group and Benjamin K. Chu, MD, MPH, president, Kaiser Permanente Southern California.
"When you think about how we influence lives in different ways, it is almost as important as the one-on-ones in the doctor's office."

– Dr. Benjamin K. Chu, president, Kaiser Permanente Southern California
Theatre is a powerful medium. Studies show that people relate emotionally, psychologically and mentally to characters played by real people better than they relate to words on a page. ET uses the imagination, interaction and immediacy of theatre to empower and inspire audiences through stories and modeling of positive behavior.
See photo highlights of the 30-year celebration!
ICYMI: Kaiser Permanente SoCal's Educational Theatre celebrated 30 years! https://t.co/y55yt0vWCy #kpetscal pic.twitter.com/lpI4k8QsNK

— Kaiser Permanente (@KPSCALnews) March 26, 2016