Kaiser Permanente gives back on Martin Luther King Jr. Day
Just as they do every year on Martin Luther King Jr. Day, Kaiser Permanente employees across the country honored Dr. King's commitment to community service by rolling up their sleeves and volunteering. Thousands of Kaiser Permanente employees, physicians, and health care professionals made an impact across the U.S. assisting the underserved and giving back to local neighborhoods and communities.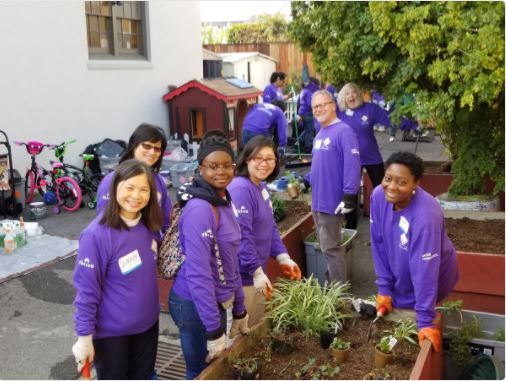 "Everybody can be great ... because anybody can serve. You don't have to have a college degree to serve. You don't have to make your subject and verb agree to serve. You only need a heart full of grace. A soul generated by love."

– Martin Luther King Jr.
Partnering with a variety of outreach organizations, Kaiser Permanente volunteers impacted thousands of lives. Some gave their time to local crisis centers, some pitched in at women and children centers; others partnered with Habitat for Humanity to help provide homes and shelter while others improved local schools or built sustainability gardens for local communities. The list — and the giving — goes on.
See highlights of Martin Luther King Jr.'s Day of Service and find out how #KPCares.
A great day of service @PoverelloHouse with more than 80 @kpfresno employees giving back to the homeless in our community #KPCares #MLKDay pic.twitter.com/HVtk9VzLur

— KP Fresno (@kpfresno) January 16, 2018
Proud to have supported @buildingfuture5 in #SanLeandro yesterday for #MLKDay of Service. Thank you @RepBarbaraLee & @mayorcutter for sharing your inspiring words about public service! #KPCares pic.twitter.com/BiWLupesXg

— KP East Bay Area (@kpeastbayarea) January 16, 2018
We are also volunteering today at @UrbanTilth in #Richmond for #MLKDay #KPCares, helping care for this wonderful community resource. pic.twitter.com/vAINOTdYfk

— KP East Bay Area (@kpeastbayarea) January 15, 2018
Serving our littlest ones by making toys to give to local hospitalized children. #BeKP #MLKDayofService #KPCares #MLKDay pic.twitter.com/SHNyCw8FmC

— jayne Dean-McGilpin (@jaynedmc) January 16, 2018
Happy to volunteer and help SD Food Bank deliver healthy food to those most in need. 13000 lbs of pears + 1020 boxes of food packed = 36,334 meals!!#beKp #thrive #KPcares #SDFoodBank@KPJFinley pic.twitter.com/Sab1cG6PPW

— Brenda V. Sillas, MBA, CHES, INHC (@brendasillas) January 18, 2018
Thanks to the more than 60 KP volunteers who helped build homes in Modesto in partnership with @Habitat_org ... Hear Corwin Harper explain on @GoodDaySac why we do this https://t.co/jNN7arMKol #KPCares #MLKDay pic.twitter.com/LtkIjZDiEA

— KP Central Valley (@kpcentralvalley) January 15, 2018
Our Events
Don't be shy. Meet a member of the Kaiser Permanente team at an upcoming career or professional event.