Just as they do every year on Martin Luther King Jr. Day, Kaiser Permanente employees across the country honored Dr. King's commitment to community service by rolling up their sleeves and volunteering. Hundreds of Kaiser Permanente employees, clinicians, and dentists made an impact, with a focus on serving the most vulnerable individuals, including children and the uninsured.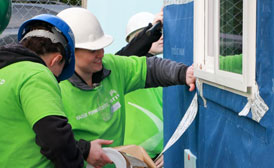 "As our signature service event, MLK Days of Service underscores Kaiser Permanente's long-standing commitment to diversity and inclusion," said Frank Hurtarte, vice president, Human Resources. "During these special days, our employees embody the spirit of Dr. King by volunteering with food banks, book banks, youth organizations, and more.
Volunteers were involved in a wide range of activities at hundreds of sites throughout the day: some packaged meals for the hungry, others organized children's book and clothing donations, and many volunteers spent their time planting trees. One team helped to build a home with Habitat for Humanity, while another helped rehabilitate an elementary school. Whether our employees were stocking food at a food bank or restoring murals in a high school, the spirit of volunteerism was truly alive and well in honor of the memory of Dr. Martin Luther King Jr. this year.
Ready to be part of a tradition of volunteerism with deep roots and the goal to build healthier communities? Join us at Kaiser Permanente! Explore our careers today.
See highlights of Kaiser Permanente's #MLKDay of Service below: