Two Nurses Save Fan's Life at Soccer Game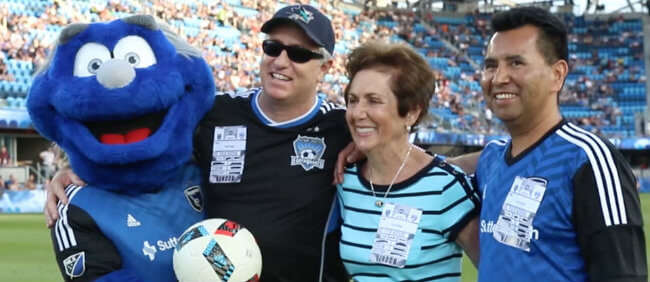 Israel Vigil and his wife, Melissa, are both registered nurses at Kaiser Permanente Santa Rosa and are both San Jose Earthquakes fans. They were at an afternoon game to celebrate their 11th wedding anniversary when another fan's heart stopped, and they both jumped into action.
Sylvia Lee and her son, Dennis Petty, had been running late for the game, so she ran up the 25 steps to their seats. Sylvia was celebrating her 76th birthday a day early. She said she was feeling good until a couple of minutes before halftime when her vision began to fade.
Sylvia said she could see the players and the field. "But there was no color, just gray. And that's the last thing I remember."
When she passed out and Dennis began yelling, Melissa elbowed her husband in the ribs and said, "She needs help." By now, it was halftime, and while thousands of fans left their seats for the break, Israel and Melissa climbed over the seats to help.
Sylvia was unresponsive so Israel checked for a pulse at her jugular vein, and Melissa double-checked — but there was no pulse. So they quickly cleared the area, brought her to the ground, and Israel started chest compressions. Melissa managed Sylvia's airway while trying to quiet the crowd around them.
"We were meant to be there for her that day. We were two nurses sitting right behind her when she needed help."

Israel Vigil
Within a few minutes, paramedics arrived and connected her to a defibrillator while Israel continued CPR.
And then Sylvia blinked.
"When I woke up the paramedics were around me and I was lying in front of my son and my seat," Sylvia explained. "It was a miracle."
She spent five days in the hospital, but her doctors could find nothing wrong with her arteries or her heart. "They told me in 30 percent of patients it happens one time like this, and it never happens again. But there's no explanation."
She said she has a hard time finding words to express her gratitude to Israel and Melissa. But she got the chance to thank Israel at a ceremony before the May 28 Earthquakes game, where he was honored.
"I just have to thank the nurses so much," she said. "I thank God that they were with me, and they were sitting right behind me. I can't thank them enough."
Are you ready to join this team of life-savers? Search all of our currently available nursing positions.
If you'd like to join a community of professionals that appreciates and strives for innovation while always putting the safety and care of the patients first, explore our careers today.