Our desire to do our best — for patients, colleagues, and ourselves — drives us to make a difference every day. For those of us on Kaiser Permanente's team of physician assistants and nurse practitioners, our power as individuals is amplified by that of our highly dedicated teams. Here, we have the strength of an entire organization behind us offering the best in technology, resources, training, and best practices.
With our efforts supported every step of the way, we work toward a shared goal of making lives better. If you believe in your power to make a difference, we invite you to put that power to work here with us.
Explore opportunities for physician assistants and nurse practitioners.
About The Roles
As a physician assistant or nurse practitioner at Kaiser Permanente, you play a powerful and important role in delivering high-quality, informative care. Working directly with patients, their families, colleagues, and supervising physicians, you'll be vital in defining the overall care experience. At Kaiser Permanente, we believe every interaction has the potential to be extraordinary, and encourage that commitment to quality and excellence amongst all of our professionals — especially care delivery specialists like you!
Life in The Golden State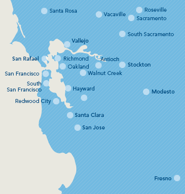 Can you have it all? Maybe! Northern California offers unique, diverse, and beautiful landscapes. From the Sierra Nevada Mountains to the wine-growing Napa and Sonoma Valleys, the world class culture of the San Francisco Bay Area to the fertile farmlands of the Central Valley, you'll find the California dream that fits your personality here in Northern California. And wherever you settle, there's likely to be a Kaiser Permanente facility close by. In a region that's known for growth, we invite you to put down your roots and grow your career and life here with us.
Benefits Overview
At Kaiser Permanente, we see the direct correlation between happy employees and happy members. Our wage and benefits plans are designed to help you stay healthy, meet your financial goals, advance in your career, and achieve a balance between your work and personal life.
The benefits offered to our employees may vary based on your Kaiser Permanente location, position, scheduled hours, and representation by collective bargaining or employee groups, but generally include:
generous vacation, holiday, and sick leave
medical care (including prescriptions), vision, mental health, and dental care
disability and life insurance coverage
educational opportunities and tuition reimbursement
employee assistance programs
health care, dependent care, and transit spending account options
retirement plans
In addition, we believe in recognizing stellar performance and sponsor a variety of programs designed to reward our skilled, innovative, caring, and committed staff.