Two Leaders Named 'Women to Know'
in Health Care
Two Kaiser Permanente leaders were honored among "130 women hospital and health system leaders to know" by Becker's Hospital Review. Recently selected from a record number of nationwide nominations, executive leaders Donna Lynne and Ruby Gill were recognized by the publication for their management and leadership skills, and their career accomplishments as health care executives in our dynamic and fast-evolving industry. We invite you to get to know them below: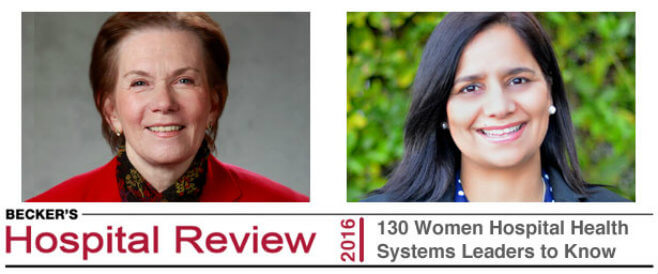 Donna Lynne, DrPH, is an executive vice president of Kaiser Foundation Hospitals and Health Plan, Inc. She has responsibility as group president for Kaiser Permanente's Northwest, Colorado, and Hawaii regions and recently, she played a lead role in reaching an agreement for Kaiser Permanente to acquire GroupHealth Cooperative in Seattle.
Her thoughts on the future of health care?
"We're seeing incredible advancements in clinical practice, pharmaceuticals, and technology that are improving the quality of life and longevity; however, at the same time, the cost of care keeps increasing... Kaiser Permanente — with our focus on evidence-based medicine and affordable health care access for all — will continue to play a major role in transforming the care model."

Donna Lynne, DrPH
Ruby Gill, RN, MBA Healthcare Management, is the chief nurse executive of Kaiser Permanente Irvine's Medical Center in California. uring her tenure, Irvine Medical Center has received multiple program certifications and designations (from agencies such as The Joint Commission and NursesImproving the Care of Healthsystem Elders), and her leadership has led the center to consistently outperform national benchmarks for nursing quality indicators.
In reflecting on what makes an exceptional leader in health care, Gill said great leaders are those who are "authentic, committed to excellence, and thrive on growing others to their highest potential."
"Opportunity lies in hiring and promoting the most passionate professionals who are willing to get the work done to ensure optimal patient outcomes and staff satisfaction."

Ruby Gill, RN, MBA Healthcare Management
This philosophy may well be one reason that Kaiser Permanente Irvine has one of the lowest registered nurse turnover rates in the country.
Insightful, talented leaders such as Lynne and Gill are helping drive the transformation of health care. If you're ready to join a team led by influential and diverse leaders, view our available opportunities today.
If you'd like to join a community of professionals that appreciates and strives for innovation while always putting the safety and care of the patients first, explore our careers today.