Former U.S. Navy Lieutenant Succeeds at Kaiser Permanente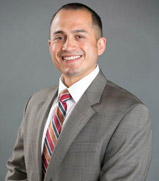 As Regional Project Manager, Business Operations Support Services, Robert Blackstad attributes much of his success at Kaiser Permanente to his 14 years serving in the United States Navy as Lieutenant, Medical Service Corps. "Schedule management and execution are critical in the military," he said. "And I learned the value of structure and focus when driving for results."
Robert made the decision to join the military during his senior year of high school and chose the Navy because he always had an interest in marine biology. So, to him, the Navy seemed the most logical branch.
The Navy provided me with direction, focus, and a mission with a great purpose. Honor, Courage and Commitment were the renewed core values in my life. The training and mentorship I received provided me with the skills needed to be a collaborator, follower, and leader ― in any setting. The Navy also helped me mature and grow up to think more broadly.
Robert launched his military career in the Navy's Subfarer Program. Dubbed "The Silent Service," the program provided on-the-job apprenticeship training to individuals serving aboard submarines allowing Robert to test the waters of submarine life. He loved it and was later stationed on the USS Pennsylvania 735 (Gold), a nuclear deterrence submarine, where his patrol for deployments could last up to 120 days.
In 2015, Robert joined Kaiser Permanente and currently works as a regional project manager in Aurora, Colorado. He attributes his career success at Kaiser Permanente to the wealth of information and training he received in the military and later translated into his civilian life.
I joined Kaiser Permanente because I wanted to enrich my skill sets to incorporate more regional strategy, policy, and general business operations. I also wanted a greater level of impact and influence to move the needle forward.
When asked if he would recommend Kaiser Permanente to other veterans, Robert said, "Kaiser Permanente is a great place to work for veterans! They value and invest in their people, and the emphasis on employee growth, happiness, and wellness is unparalleled. The culture of this organization is exceptionally positive, and the staff feel supported with the tools and the opportunities to continuously grow and develop their skills and experience."
Learn more about career opportunities for veterans at Kaiser Permanente and sign up for our Military Talent Network to get notified when positions become available.
If you'd like to join a community of professionals that appreciates and strives for innovation while always putting the safety and care of the patients first, explore our careers today.