Marching With Pride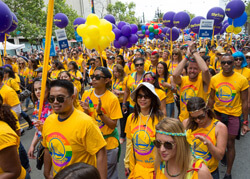 Two days after the historic Supreme Court ruling on same-sex marriage, more than 1,000 Kaiser Permanente employees, physicians, friends, and family members came together for the June 28 San Francisco LGBT Pride Parade. Kaiser Permanente has been a longtime sponsor of the event and has participated in it for 21 consecutive years. Each Kaiser Permanente marcher has his or her own reason for taking part and three of them recently shared their stories.
Ed Chitty, RN, HIV Patient Care Coordinator
When I first started working for Kaiser Permanente in 2002, there were not a lot of health care organizations marching. Kaiser had just 150 people in the parade — mostly people working in the HIV module. We were small in number, but proud of who we were, who we worked for, and what we were doing for the community.
I walk with my partner, Jeremy McClain. We've been domestic partners since 1997 and married since 2008. For a long time there was a stereotype that if you marched, you were either gay, lesbian or transgender — but that's changed.
Now on parade day, when I see the Kaiser Permanente balloons, the float, people cheering and my colleagues marching — I get goose bumps. It makes me proud to be part of an organization that has been so supportive of this important event.
Tom Cieszynski, Senior Manager, Medicare Strategy Analytics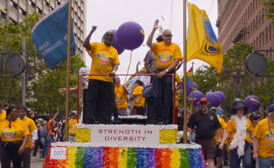 My dad did not come out until I was in college. I can only imagine the toll it took on him to keep a secret for 50 years. Now he's out in the open and married to a wonderful man.
We went to the Pride Parade together three years ago, and it was an amazing experience. That was his first, and he was so happy. It meant a lot to him to be marching with me and to see that I work for a company where our CEO and hundreds and hundreds of employees and families come to the parade.
This year, my wife and three boys will come with me because I want to share it with them. There's such a high level of happiness there. It's a wonderful event.
Mihal Emberton, MD, MPH, Adult and Family Medicine
My wife, Raelyn Ruppel, was the first woman I had ever dated, and within weeks I knew this was the person I needed to spend the rest of my life with. We got our marriage license in 2008, on the first day you could legally marry a same-sex partner in California. It was also the day Raelyn drove our belongings across the country to Ohio, where I was to start my residency.
We suffered a lot of discrimination in Ohio. The residency program said they would provide health care coverage for Raelyn, but it was a six-week battle to get her covered. She wouldn't hold my hand when we were in public because she was afraid it might spark violence.
When I started with Kaiser Permanente four years ago, my wife had health coverage from day one. When we went through prenatal care and had our baby, we were treated as a family, and that was really important to us. It's wonderful to be a part of an organization that's so outwardly supportive of my family, and about how far we've come as a society.
Video
Watch our 2015 San Francisco Pride Parade recap video below! If you would like to join an organization where diversity and inclusion are defining characteristics, consider joining the Kaiser Permanente team.
If you'd like to join a community of professionals that appreciates and strives for innovation while always putting the safety and care of the patients first, explore our careers today.